Mechanical Systems & Tools
Guarantee the design and supply of mechanical systems that meet the requirements of the Projects.
The main systems studied are:
loading and unloading tools,
means of transporting nuclear material,
nuclear facility equipment (hot cells, glove boxes, shielded boxes, storage pools),
miscellaneous industrial equipment in the sectors of large scientific instruments, aeronautics and defence, not including nuclear propulsion.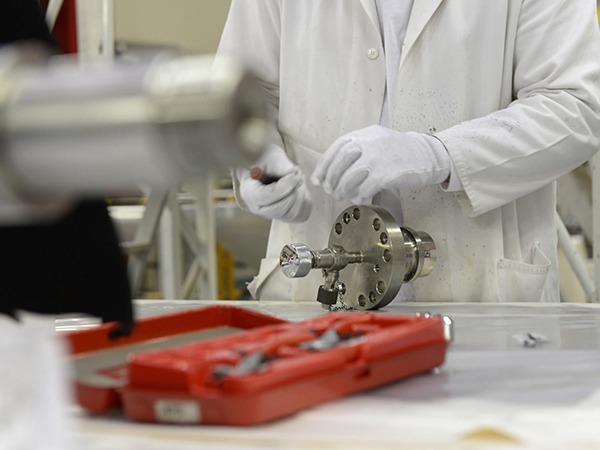 Mechanical & Vibroacoustic Sizing
Guarantee the resistance of mechanical systems and respect for the vibro-acoustic requirements of the company installations.
Specify and perform thermal-mechanical and vibroacoustic dimensioning of mechanical systems and equipment for on-board nuclear steam supply systems, on-shore prototypes or experimental reactors (pressure vessels, piping, pumps, fans, etc.), metal containment enclosures, tools for loading and unloading, nuclear facilities (storage pools, glove boxes, metal structures, etc.), industrial facilities (aeronautics, etc.) and Nuclear Propulsion cores.
Incorporate sizing imperatives into the Mechanical Design and Development phases.
Participate in drawing up and updating our technical frame of reference and the qualification of our digital simulation tools.
Assist projects for the processing of events (non-compliance or otherwise) and process safety-related issues in the field of mechanical design.
Manage subcontracting (vibroacoustic measurement, sizing of structures).
Guarantee control of means and thermal-hydraulic devices (tank and associated pool, steam generator, pressurizer, tarpaulins, accumulators, etc.).
Design the Steam Supply Block, in particular: means, thermal-hydraulic devices and core mechanics, from the operation, architecture and safety standpoints.
Carry out development and qualification of the detailed design of thermal-hydraulic vessels and devices.
Perform technical monitoring of the manufacture of thermal-hydraulic vessels and devices.
Integrate means and thermal-hydraulic devices.
Assist Operational Maintenance.
Mechanical & Electromechanical Equipment
Guarantee control of mechanical and electromechanical equipment (valves, pumps, mechanisms, motors, alternators, heating rods, connectors, filters, hoses, etc.) in terms of performance and with regard to safety.
Perform functional design studies.
Draw up specifications for equipment to be produced and manage its production.
Draw up the corresponding files.
Ensure the integration of equipment and its qualification and draw up the associated files.
Manage on-site commissioning of equipment.
Provide management in configuration.
Assist Operational Maintenance.