Mechanical Systems & Tools
Guarantee the design and supply of mechanical systems that meet the requirements of the Projects.
The main systems studied are:
loading and unloading tools,
means of transporting nuclear material,
nuclear facility equipment (hot cells, glove boxes, shielded boxes, storage pools),
miscellaneous industrial equipment in the sectors of large scientific instruments, aeronautics and defence, not including nuclear propulsion.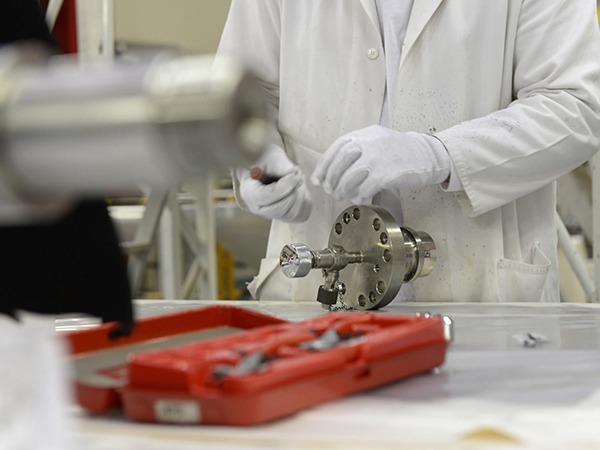 Mechanical & Vibroacoustic Sizing
Guarantee the resistance of mechanical systems and respect for the vibro-acoustic requirements of the company installations.
Spécifier et réaliser le dimensionnement thermomécanique et vibroacoustique des systèmes et équipements mécaniques de chaufferies nucléaires embarquées, de prototypes à terre ou de réacteurs expérimentaux (enceintes sous pression, tuyauterie, pompes, ventilateurs,…), d'enceintes métalliques de confinement, d'outillages de chargement et déchargement, d'installations nucléaires (piscines d'entreposage, boîtes à gants, charpentes métalliques,…), d'installations industrielles (aéronautique,…) et de coeurs de Propulsion Nucléaire (PN).
Intégrer les contraintes de dimensionnement dans les phases de Conception Mécanique et d'Aménagement.
Participer à l'élaboration et aux mises à jour de notre référentiel technique et de la qualification de nos outils de simulation numérique.
Assister les projets pour le traitement d'événements (non-conformité ou autres) et l'instruction de questions relatives à la sûreté dans les domaines du dimensionnement mécanique.
Manage subcontracting (vibroacoustic measurement, sizing of structures).
Guarantee control of means and thermal-hydraulic devices (tank and associated pool, steam generator, pressurizer, tarpaulins, accumulators, etc.).
Design the Steam Supply Block, in particular: means, thermal-hydraulic devices and core mechanics, from the operation, architecture and safety standpoints.
Carry out development and qualification of the detailed design of thermal-hydraulic vessels and devices.
Perform technical monitoring of the manufacture of thermal-hydraulic vessels and devices.
Integrate means and thermal-hydraulic devices.
Assist Operational Maintenance.
Mechanical & Electromechanical Equipment
Guarantee control of mechanical and electromechanical equipment (valves, pumps, mechanisms, motors, alternators, heating rods, connectors, filters, hoses, etc.) in terms of performance and with regard to safety.
Perform functional design studies.
Draw up specifications for equipment to be produced and manage its production.
Draw up the corresponding files.
Assurer l'intégration des équipements et leurs qualifications et établir les dossiers associés.
Manage on-site commissioning of equipment.
Provide management in configuration.
Assist Operational Maintenance.